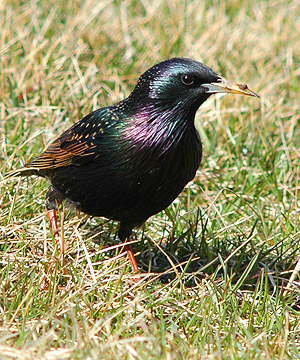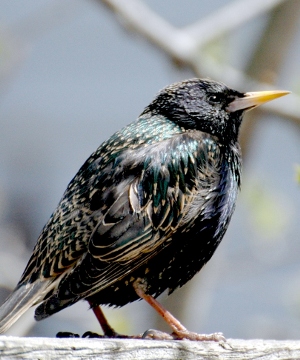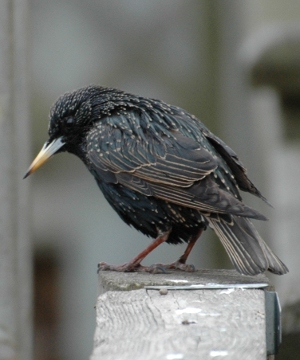 Starlings are human commensals, thriving in urban areas. Starlings hunt for bugs in the soil and litter layer of grassed areas, such as lawns, sports fields and sidewalks verges. They use a technique called "gaping" in which the beak is thrust into the sward and forced open to expose bugs hiding inside. Starlings are hole-nesters, building a coarse nest bowl inside any suitable cavity. They have even started nesting inside the hollow precast hydro poles now replacing the old wooden poles. Pairs can raise two, sometimes three, broods between May and October. In winter, starlings feed in flocks, and at dusk gather in large, communal roosts.
Description: Robin-sized black bird. Starlings have a bustling gait, and appear to "strut" as they walk rather than hop. In spring and summer, sharp yellow beak, short tail, and shiny purple-black plumage. Young starlings are light brown, and nosiy as they trail their parents demanding food. By late summer, starlings have moulted into their white speckled winter plumage, and their beaks are black.
Habitat: Urban, including playing fields, farmyards. Visit bird feeders.
Length: 15 cm
Origin: Introduced
Scientific name: Sturnus vulgaris